Avocado Chicken Tacos
Ruben Garcia
466 reviews
Mojo chicken with zesty sauce for tacos. The fragrant mix of orange, lime, and other herbs and spices to make an excellent match for pulled and shredded chicken. Roll it over crunchy corn tortillas with black beans.
by
Ruben Garcia
Ruben has worked in restaurants all around NY for the past 10 years. He worked at Palm Too and Extra virgin in the past years and now works mainly as a freelance chef for clients all around NY. He specializes mainly in catering and brings top notch food to CookUnity.
View Chef profile

Why everybody loves this meal
used my own flour tortillas and added sour cream and pickled onions - very tasty!
Alison · 10/23/22
Great flavor and avacado sauce was terrific
Dean · 10/21/22
really yummy
Rachael · 10/01/22
Don't include lettuce or package separately. Ours was wilted upon receipt of our order.
Sheri · 09/16/22
Delivery with all my meals come right on time every monday. love it! they're also really mind and usually the same oerosn. This meal is one of our tacos Tuesdays and we love the taste and portion size!
CK · 08/10/22
Easy to prep and delicious.
Jennifer · 08/06/22
Loved the blend of all the ingredients. The pickled onions added just the right amount of zest to the meal.
Geraldine Leigh · 07/22/22
Great flavor.
Lynda · 07/14/22
Ingredients:
Avocado, Black Beans, Chicken Thigh Boneless, Cilantro, Corn Tortillas, Cumin, Dried Oregano, Garlic, Ground Black Pepper, Jalapeno, Kosher Salt, Limes, Mixed Greens, Oranges, Red Onions, Smoke Paprika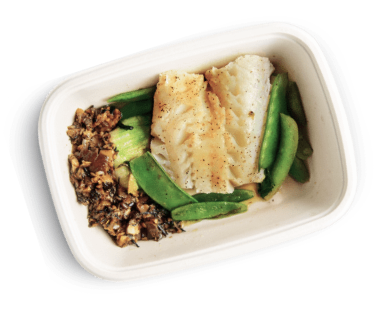 Heating Instructions
Chef preparation
Recommended for special occations.
1. Preheat to 350F
2. Remove sleeve and peel back film
3. Pour sauce on top
4. Heat up for 12 mins or until heated through
Quick preparation
Don't you worry is time is an isue we got you covered!
1. Remove sleeve and peel back film to vent
2. Pour sauce on top
3. Microwave for 2 mins

We're CookUnity, a chef collective.
We envision a world in which chefs are no longer bound by the economic and geographic limitations of the current restaurant model. One where culinary artists can reach beyond the neighborhood, and share their craft with millions of people.

How it works
Small batch meals crafted by top culinary talent. Delivered to your door each week.
01
Set your preferences
Let us know what you love to eat, then choose your meal plan –– from 4 to 16 meals per week.
02
Choose your meals
Our chefs are in constant creation mode. Every weekly menu boasts new craveable meals for you to order.
03
Heat and plate
Every meal comes with Chef heating instructions. Set the table, plate your meal, and savor the experience.
04
Repeat
Choose something new every week or stick with your staples. We'll be in the kitchen cooking up your next mouth-watering meal.

Ruben's Favorites
Signature meals by Ruben, prepared in small batches and available to order directly to your door.