Pork Loin
Tony Perez
1229 reviews
Pork loin sliced and wrapped in bacon with a side of mashed potatoes with sour cream. The orange habanero sauce is not too spicy, the perfect kick.

Why everybody loves this meal
could use more veggies but very tasty
Kathryn · 03/27/23
delish! really delish.
Jess · 03/16/23
really good!
Jo · 03/16/23
Meat was tender and had great taste
Francis · 02/12/23
Delicious
Margaret · 02/07/23
The habanero saicr was the perfect touch!
Howard · 02/04/23
Pork and mashed potatoes were both great. Some more veggies would have made the meal even better.
Vadim · 01/30/23
Unless the sauce named changed its Habanero based and its a great sauce that should be bottled. Fantastic dish. 5 Stars.
Jeffrey · 01/30/23
Ingredients:
Bacon, Chives, Cultured Pasteurized Light Cream, Enzymes, Extra Virgin Olive Oil, Ground Black Pepper, Habanero Peppers, Idaho Potatoes, Kosher Salt, Nonfat Milk, Parmesan Cheese, Pasteurised Cream, Pork Tenderloin, Rennet, Roasted Red Peppers, Salt, Sour Cream, Thyme, Unpasteurised Milk, Unsalted Butter, Water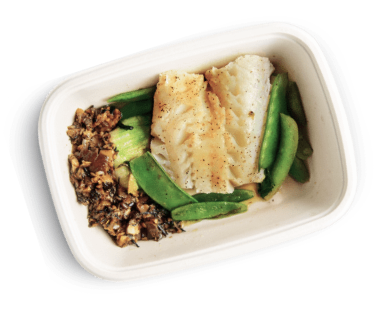 Heating Instructions
Chef preparation
Recommended for special occations.
1. Preheat to 350F
2. Remove sleeve and peel back film
3. Pour sauce on top
4. Heat up for 12 mins or until heated through
Quick preparation
Don't you worry is time is an isue we got you covered!
1. Remove sleeve and peel back film to vent
2. Pour sauce on top
3. Microwave for 2 mins

We're CookUnity, a chef collective.
We envision a world in which chefs are no longer bound by the economic and geographic limitations of the current restaurant model. One where culinary artists can reach beyond the neighborhood, and share their craft with millions of people.

How it works
Small batch meals crafted by top culinary talent. Delivered to your door each week.
01
Set your preferences
Let us know what you love to eat, then choose your meal plan –– from 4 to 16 meals per week.
02
Choose your meals
Our chefs are in constant creation mode. Every weekly menu boasts new craveable meals for you to order.
03
Heat and plate
Every meal comes with Chef heating instructions. Set the table, plate your meal, and savor the experience.
04
Repeat
Choose something new every week or stick with your staples. We'll be in the kitchen cooking up your next mouth-watering meal.

Tony's Favorites
Signature meals by Tony, prepared in small batches and available to order directly to your door.