Skirt Steak with Herbed Mushrooms
Tony Perez
123 reviews
This dish is all about the skirt steak, a cut prized for its robust flavor. Chef Tony keeps the steak seasonings simple to let its flavor shine, then sears it to perfection and drizzles with herbs and spices. Sautéed mushrooms and shallots make for a satisfying side along with an herbaceous, creamy cauliflower mash.

Why everybody loves this meal
Me Encantó!
Vanessa · 04/10/23
great
Ana · 03/28/23
love the amt of meat
Rob · 03/27/23
Really tasty!
Felicia · 03/05/23
Delicious and perfectly portioned!
TRACEY · 03/01/23
Wonderful!
Taylor · 02/24/23
The steak was tender and delicious!!
Isadora · 02/21/23
This is an excellent meal! Love it!
Leslie · 02/09/23
Ingredients:
Black Pepper, Button Mushrooms, Canola Oil, Cauliflower, Chives, Extra Virgin Olive Oil, Italian Parsley, Kosher Salt, Marjoram, Red Wine Vinegar, Shallots, Skirt Steak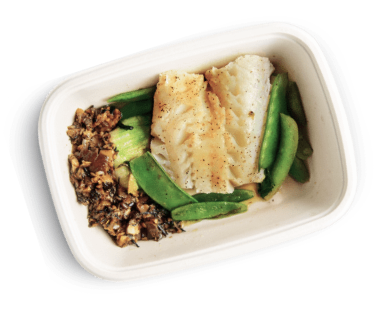 Heating Instructions
Chef preparation
Recommended for special occations.
1. Preheat to 350F
2. Remove sleeve and peel back film
3. Pour sauce on top
4. Heat up for 12 mins or until heated through
Quick preparation
Don't you worry is time is an isue we got you covered!
1. Remove sleeve and peel back film to vent
2. Pour sauce on top
3. Microwave for 2 mins

We're CookUnity, a chef collective.
We envision a world in which chefs are no longer bound by the economic and geographic limitations of the current restaurant model. One where culinary artists can reach beyond the neighborhood, and share their craft with millions of people.

How it works
Small batch meals crafted by top culinary talent. Delivered to your door each week.
01
Set your preferences
Let us know what you love to eat, then choose your meal plan –– from 4 to 16 meals per week.
02
Choose your meals
Our chefs are in constant creation mode. Every weekly menu boasts new craveable meals for you to order.
03
Heat and plate
Every meal comes with Chef heating instructions. Set the table, plate your meal, and savor the experience.
04
Repeat
Choose something new every week or stick with your staples. We'll be in the kitchen cooking up your next mouth-watering meal.

Tony's Favorites
Signature meals by Tony, prepared in small batches and available to order directly to your door.