Spicy Pulled Chicken Tacos
Ruben Garcia
878 reviews
This vibrant dish is poised to spice up your weeknight! Tender pulled chicken thighs are seasoned with a classic taco seasoning blend and served up in fresh corn tortillas. On the side you'll find a spicy pico de gallo and sweet mango pico de gallo so you can customize your tacos and make them as spicy or mild as you like. Any way you plate it, these tacos are guaranteed to make you feel like you're on vacation in Mexico!
by
Ruben Garcia
Ruben has worked in restaurants all around NY for the past 10 years. He worked at Palm Too and Extra virgin in the past years and now works mainly as a freelance chef for clients all around NY. He specializes mainly in catering and brings top notch food to CookUnity.
View Chef profile

Why everybody loves this meal
SOOOO AMAZING! Everything about this meal was so delicious AND a lot of chicken was included which I really appreciate! I ate this dish the day it said to eat it by and I thought because of that, the tacos would no longer be crispy but they were still somehow crispy! Additionally, because it was just 3 tacos I did not think my hunger would be satisfied but I was fully satisfied! So 5 FULL STARS!
Julisa · 09/11/23
I order this all the time—it's so good and fills me up!
Kimberly · 08/28/23
very good!!
Benjamin · 08/20/23
great, wish one or two more shells was provided and a bit more of the mango topping based on the amount of chicken given
David · 08/16/23
tastes great!
Carolann · 08/14/23
Yummy ingredients the tacos were very hard though
Edrea · 07/29/23
good taste
Pam · 07/21/23
one of my favorites
Emma · 06/27/23
Ingredients:
Agave Syrup, Avocado, Chicken Thigh Boneless, Cilantro, Corn Tortillas, Extra Virgin Olive Oil, Jalapeno Peppers, Kosher Salt, Lime Juice, Mango, Onions, Red Onions, Romaine Lettuce, Serrano Chili, Taco Seasoning Mix, Tomatillo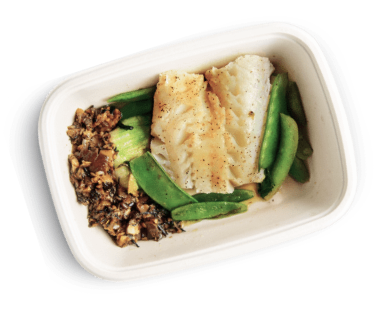 Heating Instructions
Chef preparation
Recommended for special occations.
1. Preheat to 350F
2. Remove sleeve and peel back film
3. Pour sauce on top
4. Heat up for 12 mins or until heated through
Quick preparation
Don't you worry is time is an isue we got you covered!
1. Remove sleeve and peel back film to vent
2. Pour sauce on top
3. Microwave for 2 mins

We're CookUnity, a chef collective.
We envision a world in which chefs are no longer bound by the economic and geographic limitations of the current restaurant model. One where culinary artists can reach beyond the neighborhood, and share their craft with millions of people.

How it works
Small batch meals crafted by top culinary talent. Delivered to your door each week.
Set your preferences
Let us know what you love to eat, then choose your meal plan –– from 4 to 16 meals per week.
Choose your meals
Our chefs are in constant creation mode. Every weekly menu boasts new craveable meals for you to order.
Heat and plate
Every meal comes with Chef heating instructions. Set the table, plate your meal, and savor the experience.
Repeat
Choose something new every week or stick with your staples. We'll be in the kitchen cooking up your next mouth-watering meal.

Ruben's Favorites
Signature meals by Ruben, prepared in small batches and available to order directly to your door.