Spicy Shrimp Marinara
Tony Perez
284 reviews
Spiralized zucchini with a kick of spicy marinara with shrimp that's gluten-free, grain free and dairy free.

Why everybody loves this meal
Loved the thickness and slightly crunchy texture to the zucchini noodles. I've had meals before with these types of noodles, and it was watery and lackluster. This meal changed my mind about zucchini noodles.
Michelle · 02/20/23
-
Tatsuya · 02/13/23
So delicious, perfect spice level, and plenty of shrimp.
Chesley · 01/25/23
fantastic flavor
Madeline · 01/18/23
Nutrition and taste collided nicely here. Would get again
CC · 11/10/22
Fresh tasty and zesty sauce!
Heather · 10/05/22
Sufficient number of shrimp and lots of "noodles"
Marge · 10/04/22
Love this. One of my favorites
Karen · 09/18/22
Ingredients:
100% Chardonnay Grapes, Agave, Black Peppercorn, Carrots, Celery, Crushed Red Pepper, Dried Oregano, Extra Virgin Olive Oil, Garlic, Kosher Salt, Organic Blue Agave Nectar, Organic Tomatoes, Shrimps, Spanish Onions, Tomatoes, White Wine, Zucchini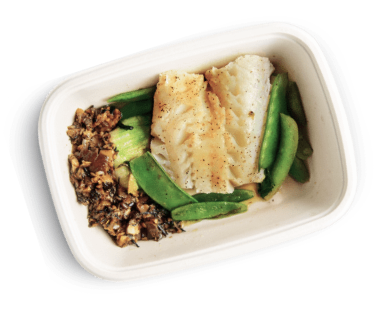 Heating Instructions
Chef preparation
Recommended for special occations.
1. Preheat to 350F
2. Remove sleeve and peel back film
3. Pour sauce on top
4. Heat up for 12 mins or until heated through
Quick preparation
Don't you worry is time is an isue we got you covered!
1. Remove sleeve and peel back film to vent
2. Pour sauce on top
3. Microwave for 2 mins

We're CookUnity, a chef collective.
We envision a world in which chefs are no longer bound by the economic and geographic limitations of the current restaurant model. One where culinary artists can reach beyond the neighborhood, and share their craft with millions of people.

How it works
Small batch meals crafted by top culinary talent. Delivered to your door each week.
Set your preferences
Let us know what you love to eat, then choose your meal plan –– from 4 to 16 meals per week.
Choose your meals
Our chefs are in constant creation mode. Every weekly menu boasts new craveable meals for you to order.
Heat and plate
Every meal comes with Chef heating instructions. Set the table, plate your meal, and savor the experience.
Repeat
Choose something new every week or stick with your staples. We'll be in the kitchen cooking up your next mouth-watering meal.

Tony's Favorites
Signature meals by Tony, prepared in small batches and available to order directly to your door.